Document Management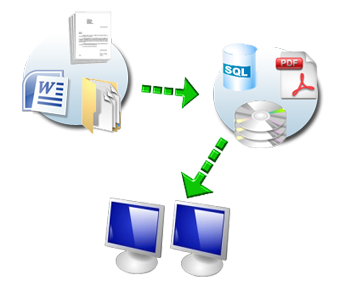 Easy to use document management system
Data acquisition through multiple input sources :

Digital scanners for the digitization of physical documents.
Various software solutions generating commonly used output formats including the PDF framework.
Document classification
Manual and automatic document indexing
Multilevel document sorting feature

Document storage:

Online and removable media support for increased availability.
Advanced hierarchical storage based on document content and classification.
Advanced document life cycle support for storage and archiving optimization.

Document availability and accessibility

Web client support.
Advanced keywords search capability.
Visualization with printing, routing support via email.
MultiPrint
Print Management
Printing Resources Management
Queues Management
Printers Management
Spools Management
Overlay Pages Management
Documents Management
Document Archiving
Documents Classification
Documents Distribution
Printing Statistics
Printings Billing
Printings Viewing
Printing server
Reprography Solution
Centralized administration
Unix, Windows Environnements