Reprography solution

MultiRepro is a software solution for print service providers in the public and private organizations. br> It can replace paper order forms by electronically ones via the Web It allows to centralize documents and printed on the server reprographic. Printed documents and are divided in three categories:

common documents and printed
each service has its own documents and printed
spot documents and printed
To facilitate the management of documents each type of document is classified as a kind of library or catalog. Thus, each service maintains its own catalog, reprographics service manages the catalog of common documents. Document management service catalog (modification, addition, deletion) may be made by personal service or be entrusted to the reprographics. Br>When adding the document in the catalog,the printing characteristics and shapings are filled once . These characteristics may be modified at any time. Among the print attributes we can include color printing, color and weight of the paper, single-sided printing or recto / verso, the type of finish (attached, stapled, etc.). Br>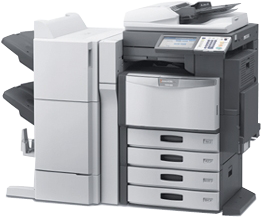 MultiRepro allows saving time,an improved productivity and excellent responsiveness. With a very good quality / price ratio, return on investment is guaranteed.
MultiPrint
Print Management
Printing Resources Management
Queues Management
Printers Management
Spools Management
Overlay Pages Management
Documents Management
Document Archiving
Documents Classification
Documents Distribution
Printing Statistics
Printings Billing
Printings Viewing
Printing server
Reprography Solution
Centralized administration
Unix, Windows Environnements