Printing Resources Management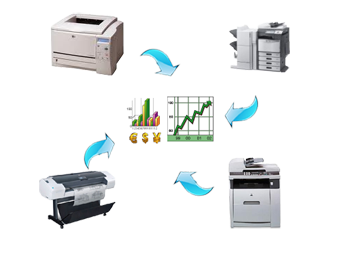 Printing as a resource is often the stepchild of enterprise software solutions and is wrongly perceived as a peripheral device rather than a potentially high value added feature for cost management.
MultiParc is a software tool allowing the management of a printing resources at the corporate level, covering devices such as printers, copiers, all-in-ones, faxes and so on.
MultiParc is device agnostic as all brands and models are supported across multiple sites:
Automatic discovery and identification of all connected printing devices available
Automatic collection of device metrics such as usage meters and cartridge ink levels
Real-time detection of incidents and alerts management for support and maintenance
Automatic and proactive management of supplies
Suppliers contract management including administrative and technical extensions
Global management of all printing media, printers, copiers, all-in-ones
Supports multiple sites, all brands and all models
Detailed monthly usage reporting of all installed printing devices
Increased availability of printing resources with lower downtimes
Analytic breakdown of printing costs at departments and budgets levels
Proactive management of reordering needs for both hardware and supplies
Optimization of users needs and equipment capacities
MultiParc
addresses the following needs and issues:
How many pages are printed on a monthly basis across the organization?
What is the amount of time allocated by the technical support to printing related issues?
What is the uptime ratio of printing resources?
What is the percentage of black & white printing versus color printing?
With accurate and reliable data consolidation, MultiParc is the ideal tool to perform cost reductions while improving the overall level of service, thus delivering substantial productivity increases.
MultiPrint
Print Management
Printing Resources Management
Queues Management
Printers Management
Spools Management
Overlay Pages Management
Documents Management
Document Archiving
Documents Classification
Documents Distribution
Printing Statistics
Printings Billing
Printings Viewing
Printing server
Reprography Solution
Centralized administration
Unix, Windows Environnements